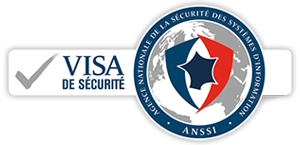 Architect® vandal proof keypad readers (ARC-W33-B-PH5-7AD) are in the spotlight! Thank you and congratulations to Synchronic, STid's historical partner, who has received the French First Level Certification issued by ANSSI - CSPN - for its XSecur 'solution with our readers.
« Given our strong partnership for several years with STid, French manufacturer and with their experience with products already certified, so naturally we have integrated one of their readers to undertake the CSPN certification process for SYNCHRONIC XSecur' solution" says Jacques Rossignol, Commercial Director of Synchronic.
The SSCP protocol offers both the reader control by the system and the best levels of security: its transparent mode perfectly meets the requirements of the ANSSI at the same time as the encrypted / signed modes for the data such as the PIN code. Added to this is an IK08 protection grade, a capacitive technology and the best self-protection on the market, to make it the best keypad reader unit for the most demanding access installations.