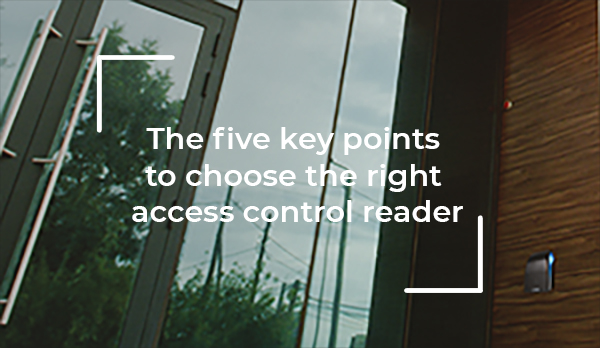 Installing an access control system is essential to ensure the security of your business and those on your premises: your employees, customers, subcontractors, partners, etc. But which solution should you opt for? Your sector presents specific issues: enabling authorized persons to access different areas of a site, allowing multi-profile management over a number of sites, etc.
With complete ease.
Let's focus on the most visible aspect of access control, an essential yet overlooked component: the reader. What are the five key points?
Point 1: Durability and resistance to vandalism
The reader is the cornerstone of your access control system. Its importance must not be underestimated: an unreliable reader will affect the quality and performance of a solution in terms of software and controllers. This will have an impact on the solution as an integral system.
Reliability is an elusive quality. It is dependent on two key points: robustness and continuity over time. It is determined by often invisible details such as the choice of components, the stringency with which the unit is assembled and tested, or mechanical design.
Point 2: Uniform end-to-end security
Here, the reader and color as a symbol of accessibility are merely the tip of the iceberg. Under the surface, the key factor remains data integrity and therefore the encryption and authentication mechanisms implemented for this purpose.
This consideration should be included right from the system's design phase to ensure faultless end-to-end security. Firstly, between the badge and the reader, in particular with MIFARE DESFire® EV2 technologies. Then, between the reader and the controller/LPU, with systems capable of supporting the American OSDP and European SSCP protocols.
Point 3: Adaptability to technological developments
A reader's modularity is essential for it to adapt to any change in requirements or any technological developments (biometrics, facial recognition, etc.)
This results in three advantages:
Security advantages: the reader is then able to accommodate changes in security requirements and shield against new threats.
Functional advantages: the equipment can adapt with more ease and speed to changes in requirements (internal staff mobility, building reconfiguration, etc.)
And, of course, economic advantages: the investment lasts longer by adding functions in accordance with changes in requirements.
Point 4: Multiple and intuitive reading modes
Reinforced access control is readily perceived to be a constraint. In an attempt to make their lives easier, users are limitless in their imagination: wedging doors open, repeatedly losing their badges, etc. Using a smartphone dramatically reduces the risks associated with lending/losing/forgetting badges. And when an access point offers multiple identification modes, the system too adapts to expectations and eliminates access control constraints.
As a result: fewer constraints = greater compliance with instructions = enhanced security!
A mix of technologies also improves general site operation: why issue a badge when a QR Code is enough to offer temporary access?
Depending on the required level of security, technologies such as facial recognition will offer new possibilities for securing your access points. Of course, in complete compliance with recommendations of the French Data Protection Authority (CNIL). Innovation is not limited to technological breakthroughs: it also involves intelligent, and sometimes unique, combinations of existing technologies.
Point 5: Total customization
Until now, design, color and customization have been words missing from the security sector's vocabulary.
And yet... The black box as a badge reader is not inevitable... Design and performance can go hand in hand.
An art form mastered by few. ?
As the only visible part, the reader then becomes a tool of communication and an indisputable design feature for the building.
How about if your reader was in the colors of your business? Or if it was able to blend into your environment... This customization would make your reader as unique as your imagination!
Reliability, upgradability, instinctive usability, uncompromising security, customization... each one a key criterion in your choice of access control reader. For STid, these are strict requirements – the foundations on which trust is built.
Whether you are in aerospace, health or energy, you require a solid partner for the long term.
Needing to secure your access points and provide comprehensive protection for all? Please make contact with our teams in France and worldwide to discuss your high-security requirements and our various product ranges.
Contact us today at This email address is being protected from spambots. You need JavaScript enabled to view it. or on +33 (0)4 42 12 60 60.